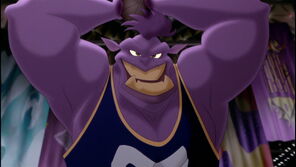 Bupkus is the naive one out of the nerdlucks. As a nerdluck he is voiced by Catherine Reitman and as a monstar he is voiced by Dorian Harewood.
Appearance
Edit
Bupkus is a purple nerdluck who wears a yellow bowtie, he speaks in a high cheerful voice. As a monstar he is very muscular (moreso than Monstar Bang) and has dark purple hair after he stole the talent from Larry Johnson, he speaks in a deep suave voice.
Personality
Edit
As a nerdluck he is naive and cheerful and as a monstar he is emotional and cocky. He enjoys mocking Michael Jordan and hurting the Looney Tunes.
Bupkus is first seen licking Swackhammer's sandals, when Bupkus says looney that gives Swackhammer the idea. Bupkus giggled and he cheerfully exclaimed Looney Tunes! with the pom poms in his hands. When the nerdlucks first meet Bugs Bunny Bupkus is disappointed that Bugs tricked into not knowing who he is.
At the emergency meeting when the nerdlucks are challenged Bupkus felt excited about basketball however they don't know what basketball is and so while watching a movie about basketball history Bupkus is seen listening to it cheerfully then he stole the talent from Larry Johnson. Bupkus is seen touching the glowing basketball cheerfully, after the transformation he is seen smiling arrogantly at the Looney Tunes.
Ad blocker interference detected!
Wikia is a free-to-use site that makes money from advertising. We have a modified experience for viewers using ad blockers

Wikia is not accessible if you've made further modifications. Remove the custom ad blocker rule(s) and the page will load as expected.