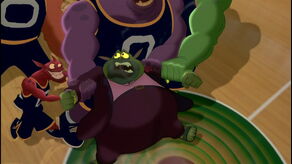 Nawt is the shortest of the nerdlucks. As a nerdluck he is voiced by Colleen Wainwright and as a monstar he is voiced by T.K. Carter.
Appearance
Edit
Nawt is a red nerdluck who wears an orange yellow spotted bowtie, he speaks in a high squeaky voice. As a monstar he is still the shortest of the group and is now, like most of the other monstars, muscular. He stole the talent from Muggsy Bogues, he still speaks in a high voice.
Personality
Edit
As both a nerdluck and a monstar he is hot-blooded, aggressive and the shortest of the group.
Nawt is first seen filing Swackhammer's nails while being lectured and he has to agree with Swackhammer having new attractions for Moron Mountain.
Ad blocker interference detected!
Wikia is a free-to-use site that makes money from advertising. We have a modified experience for viewers using ad blockers

Wikia is not accessible if you've made further modifications. Remove the custom ad blocker rule(s) and the page will load as expected.