Latest News
Summary
Basketball legend Michael Jordan stars as himself, a retired sports hero trying his hand at baseball and failing miserably. Meanwhile, the Looney Tunes gang, led by Bugs Bunny, are kidnapped by aliens called the Nerdlucks. It seems that the Nerdlucks' theme park, Moron Mountain (a barely-veiled dig at Disney) is failing to attract customers. The space invaders are convinced that the appearance of Bugs and his pals will beef up business. Bugs makes his captors a deal -- they'll play a game of basketball for their freedom. When the Nerdlucks stack the deck by stealing the talent of NBA superstars Charles Barkley and Patrick Ewing, the Warner Bros. heroes enlist the aid of Jordan, who returns to the court to help the classic characters.
Welcome
Welcome to the Space Jam Wiki! Here you can discuss and expand all you're knowlege on the Space Jam and it's characters. We are a public community and anybody can edit our articles, however please remember to ensure a neat and informative website. We also encourage editors to create a registered account so that you will be easier to contact and identify. If you have any questions, concerns, or suggestions please contact an administrator. Make sure to check out the characters and production section.
Featured Video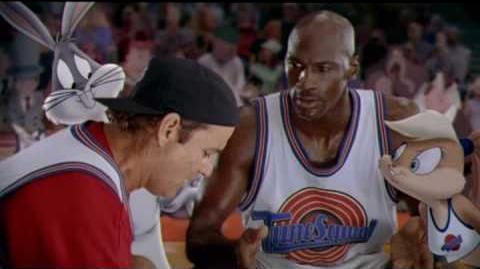 Character Poll
Who is your favorite Looney Tune?
Film Poll
Which Looney Tunes film do you like best?
Blogs and News
Create blog post
Blogs
Who's your favorite Monstar?

Pound the leader, Bang the tough guy, Bupkus the emotional one,Blanko the laid back one, Nawt the smart one.

Read more >

I'm turning 21 next Friday I'll be having fried squid and french fries for dinner and for dessert I'll be having cake and frozen yogurt and by the way Space Jam will be on VH1.

Read more >

When I was a kid the Monstars used to scare me, But now that I'm older I got used to them.

Read more >
See more >
Ad blocker interference detected!
Wikia is a free-to-use site that makes money from advertising. We have a modified experience for viewers using ad blockers

Wikia is not accessible if you've made further modifications. Remove the custom ad blocker rule(s) and the page will load as expected.